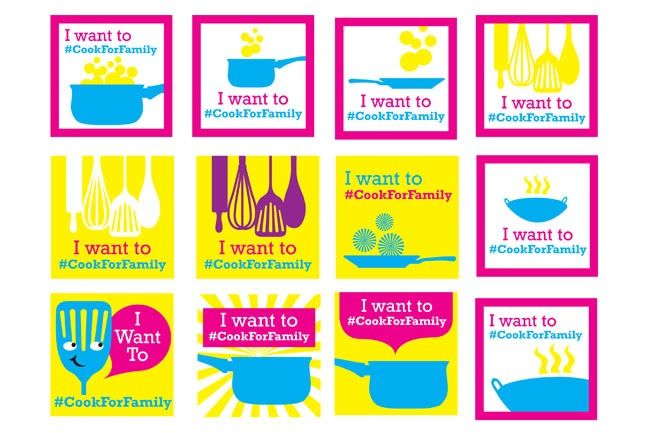 Earlier on in July, I saw
Daniel's Food Diary
organising a
#CookForFamily
initiative, and I thought that was quite meaningful.
Sometime back
last year
, Mr Pau and I started to cook for his family on one of the weekends. We always split work - we will do different tasks, like chopping the garlic and onion, boiling the water, stir frying the food. And yes, Mr Pau's parents are also involved in the cooking since they are so experienced already.
Sometimes the food doesn't turn out really well, but I am so thankful that Mr Pau's parents have always been very encouraging by saying "
Hao Chi!
".
It was then I realised nothing can compare to a simple meal, prepared together by the whole family. I have never felt such joy and warmth, even if it's eating out at expensive restaurants.
Since then, we enjoyed cooking together as a family :)
If we have more time on hand, we would cook more, like this
Thai night
we had, complete with dessert. If we have lesser time, we would cook dinner like fried chicken cutlet,
spaghetti
, or
pan-fried chicken chop
.
So in July, here is what we have cooked!
IKAN BILIS NASI GORENG
Recipe adapted from
Cady McBronzie Culinary Adventure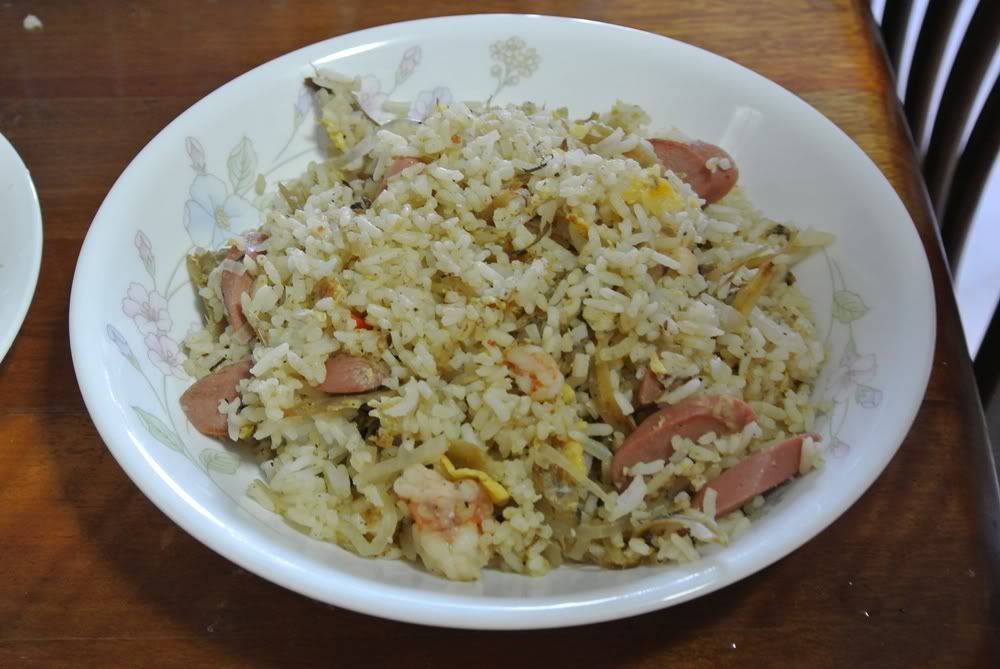 Ingredients
- 4 cups overnight rice
- 2 garlic cloves, minced
- 1 big onion, finely chopped
- 5 chili padi, finely chopped (original recipe uses 10)
- 1/4 cup ikan bilis, soaked in water and finely chopped
- 1 ikan bilis stock cube
- 1/2 teaspoon light soya sauce
- 5 chicken franks, sliced into four
- 5 crab sticks, sliced into three
- 10 medium grey prawns, deshelled and leave the tail intact
- 2 eggs
- Fresh parsley
- Fried shallots
- Salt and pepper to taste
Method
1. In a wok, heat some oil and add the garlic, onion, chili padi and ikan bilis. Add the ikan bilis stock cube and stir-fry until aromatic or when the oil separates.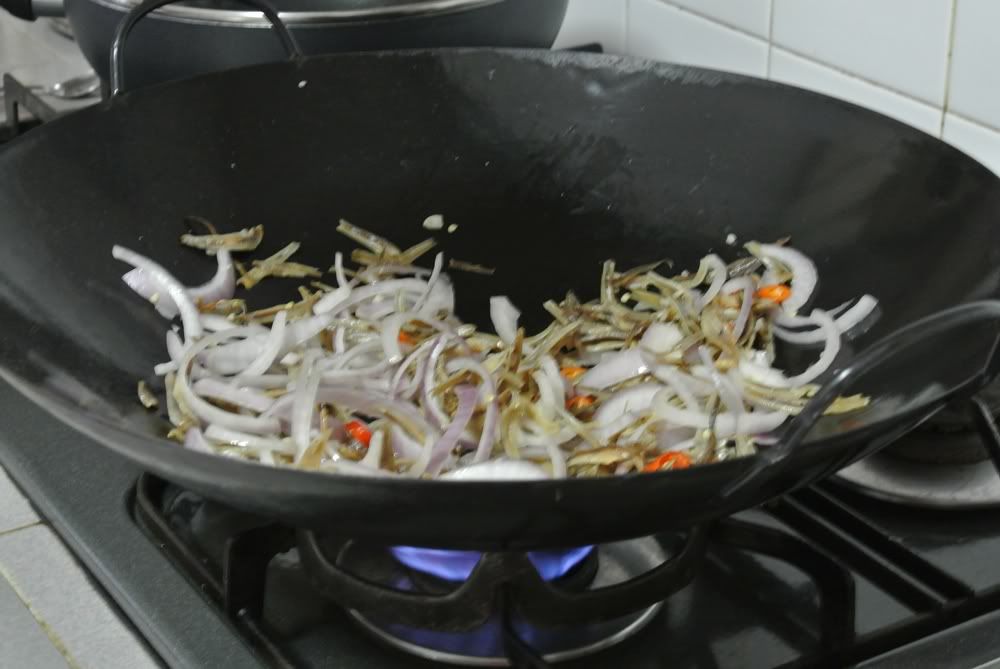 2. Add the chicken franks, crab sticks and prawns and mix well with the paste. Make a little well in the middle and fry the eggs. Quickly scramble the eggs and add the rice into the wok. Stir well with the paste.
3. Add light soya sauce and a pinch of salt (to taste) into the rice and continue to stir-fry and make sure that they are well blended with the rice. Sprinkle pepper (to taste).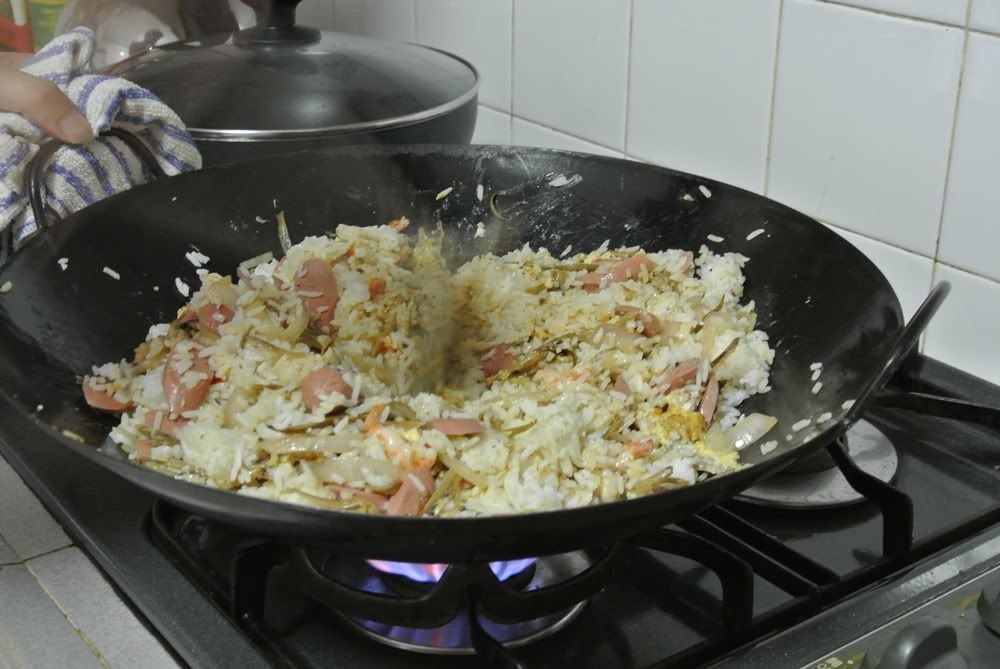 4. Dish out, top the nasi goreng with the fried shallots and fresh parsley.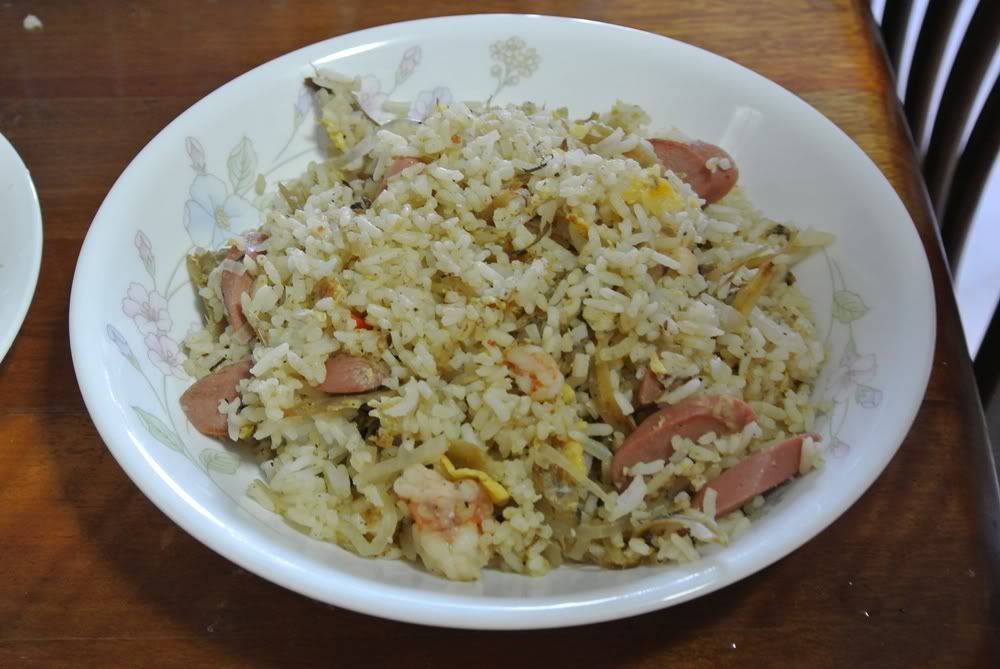 I like this Nasi Goreng because fried rice means you can add in or take out ingredients you like! We added pepper into our fried rice because we like it a little peppery. Do take note not to add in too much pepper because the fried rice is already a little spicy.
Tips:
- You can deep fry the ikan bilis before hand if you like crunchier bite.
- Do make sure you wash the ikan bilis well and let dry before deep frying.
- You can adjust the spiciness by adding or decreasing the chili padi.
- Add in different ingredients as you like!
IKAN BILIS NASI GORENG
Ease of Making
♥ ♥ ♥ ♥
♥
Taste
♥ ♥ ♥
♥
♥
Wallet Friendliness
♥ ♥ ♥ ♥
♥
* * * * * *
We also cooked Bak Kut Teh for #CookForFamily. It was very easy and quick as we kind of ran out of time.
We just bought the Bak Kut Teh satchet from the supermarket, and cooked according to the directions on the packet.
BAK KUT TEH
Ingredients
- Bak Kut Teh packet
- 2 large whole garlic
- Pork Ribs
- Sauce: Chopped chili padi in dark soy sauce
Method
1. Chop the pork ribs and wash throughly. For less oily soup, trim away unwanted fats on the pork ribs.
2. Boil the pork ribs for a while in boiling water (until you see no more raw parts). Take out the pork ribs and discard the water.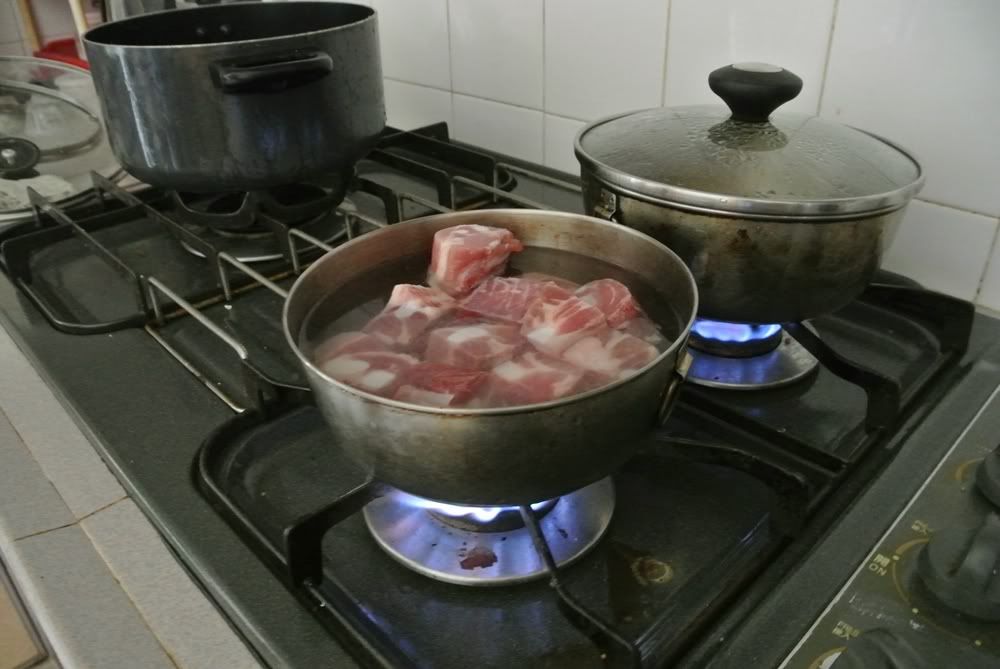 3. Put the bak kut teh packet, together with the whole garlic and pork ribs, into a pot of water.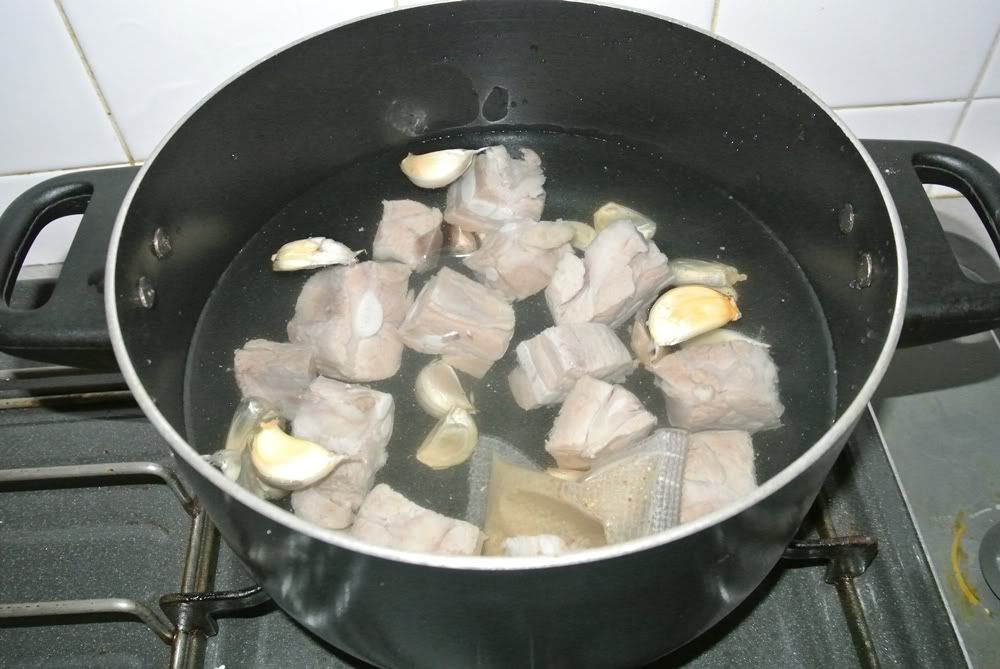 We didn't use whole garlics here ;p
4. Cook for about an hour if you are in a rush. If not, let the soup simmer well for more tender ribs. Add in dark soy sauce and salt to your liking (to taste). We also have added in black pepper.
A whole pot of peppery goodness :)
BAK KUT TEH
Ease of Making
♥ ♥ ♥ ♥ ♥
Taste
♥ ♥ ♥ ♥
♥
Wallet Friendliness
♥ ♥ ♥ ♥ ♥
* * * * * *
If you haven't been eating at home with your family, you probably might want to organising a Cooking Night with your family members. And through my experience, we really don't need to cook super difficult dishes. Even simple dishes like the fried rice and bak kut teh don't take much time to prepare, yet can have a good time to bond together, over the 7pm soap drama (LOL).
The food may not taste like the most exquisite dish in restaurants, but the bonding time is really priceless.
Just try it! You might be surprised with the joy and warmth you get :)